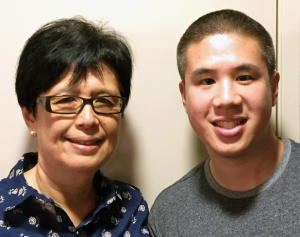 A MOTHER'S STORY
… continued
The admitting doctor told Keenan that he was in danger of having permanent liver damage if he continued taking drugs. If Keenan's liver failed, he wouldn't be able to have a liver transplant because of his drug history.
I spent many hours with Keenan during his 3-night stay in the hospital. I asked him, "Why do you think this is happening to you? Do you think God is trying to get your attention?" I prayed and urged my son to ask for God's help.
The enzyme levels decreased, but they were still high when Keenan was discharged from the hospital. He would have to be monitored closely by a liver specialist.
Since Keenan didn't have health insurance, the hospital wanted him to sign documents that would allow them to evaluate his financial situation. After their evaluation, they would determine what Keenan needed to pay for his hospitalization. This was a great concern to our family. Not only was Keenan uninsured, he was also without a job. How would he pay the bill?
On one of Keenan's follow-up visits with the liver specialist, the doctor said that the elevated enzyme levels were the highest he had ever seen in which the sole cause was drug abuse. I was alarmed when Keenan shared this news. But his next words stunned me. He said, "I'm okay with what the doctor said. I'm at peace about it." Keenan knew God allowed this to happen to wake him up to the harm he was inflicting on his body.
In the months that followed, I noticed tangible changes in Keenan. He stopped experimenting with drugs. And unlike the previous two years after his college graduation, he was determined to find a job. Amazingly, the search was easy. Within two months, he found a job in the field he wanted to work in. It was clearly God's provision for Keenan! And 3 months after his discharge from the hospital, the liver enzyme levels returned to normal. God healed our son!
On Good Friday of 2013, Keenan received a letter from the hospital. The letter stated that the entire bill for his hospitalization would be written off. He wouldn't have to pay anything for his hospital stay. It was a $40,000 gift from God! This was incredible! But there was more. Two weeks later, the hospital sent a check for $1,500. It was a refund of the amount paid for Keenan's admission to the hospital!! Who else but God could do this??
God did amazing things, but the greatest miracle of all was the transformation in Keenan's heart. Keenan was always afraid to venture out and do things apart from his friends. But to my surprise, he joined the India missions team in 2014 even though he hardly knew anyone on the team. His problem with drugs and how God changed him was a powerful testimony that he shared with the people of India. The experience was eye opening and life changing. Keenan's heart was so moved with compassion for the Indian people that he joined the India missions team again for their trip this past February.
Keenan is a different person from the one who was into drugs two years ago. He met God in a way that changed his entire perspective on life. Once my son was lost, but now he has found meaning and fulfillment through his relationship with God. He has found his identity in Christ. He knows he is loved and valued by the God who created him. Out of the overflow of what he has experienced, Keenan loves God in return by working with the High School Missionary Team. He is also helping to organize the annual 3on3 basketball tournament, an outreach to benefit the L.A. Chinatown community. He is actively sharing God's love with others. That is more gratifying to this mother than anything else. Although I never would have wanted to see Keenan afflicted with illness, God knew best how to answer my prayers. He used a horrible situation to change the heart of my son. All praise be unto God, who does all things well!