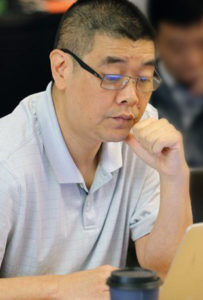 Two years ago, I noticed another change in my vision. While I was driving, I noticed that traffic lights far away would appear like three lights in a triangle. My annual appointment to see Gerry was coming up, so I didn't bother to call him this time. As Gerry was looking into my eyes he said: "Oh Ted, you have cataracts!" By this time, I was used to hearing bad news about my eyes. Cataract surgery is one of the most commonly performed surgeries however, like with any surgery, there are potential side effects and one of them is retinal detachment. I was in a high risk category, so the decision to have cataract surgery was not to be taken lightly. I knew I would eventually need it, so I decided not to wait. The plan was to have cataract surgery on my left eye and wait a month to see how my eye responded. The surgery went well. My eye recovered though I never really noticed any benefit since I had no central vision in my left eye. A couple of months later, I had cataract surgery on my right eye. One benefit from cataract surgery is that they implanted a new lens that would improve my vision so I wouldn't need contacts or glasses. That was great. I could wake up in the morning and not fumble to put on glasses to see the clock. No more contacts! Most people who experience a detached retina following cataract surgery would typically have this occur within a year of the surgery.
Fast forward 11 months…guess what happens? Again, I'm sitting in front of the computer and this time, I notice that I could not see my nose in my peripheral vision with my right eye. This time, I didn't even call Gerry and called the ophthalmologist immediately. They diagnosed me over the phone with…. you guessed it… a detached retina. As I had experienced a detached retina previously, I knew what to expect – or so I thought. As he looked into my eye, he said he could not see the detachment. In my heart, I knew there was a problem but in my mind, I thought perhaps I was just seeing things… or in this case, not seeing things. Since he could not see a problem, he could not treat it. I left the office feeling apprehensive and frustrated. Each day that passed, I noticed more vision loss. Feeling frustrated, I just hoped it would go away. About a week went by and by this time, I lost half of the vision in my eye and everything started to look red in color. I thought for sure there was something wrong, so I went back to see the doctor. Sure enough he could see the detachment this time. Since it progressed so far, laser treatment was no longer an option. They had to perform an emergency vitrectomy. In a vitrectomy, they basically suck out the vitreous (the gel-like fluid in the eye), peel back the retina, clean up the bleeding, put the retina back in place, and fill my eye with a gas bubble. It would take a month for the gas bubble to dissipate, so I was legally blind for a month. I could not work. I could not drive. I could not do much of anything. The surgery was successful, but it was not without any side effects. Straight lines no longer appear straight. There is still some distortion but what is concerning is that there is a spot very close to my central vision in the right eye where I cannot see anything. When the ophthalmologist examines my eye, he doesn't see anything wrong. This spot has grown since the surgery but has not encroached on my central vision so far.
These trials with my vision and with my eyes have taught me to trust in God. Many times, I have asked Him, "Why me?" I'm still waiting for an answer. I know also that God is in control of everything. He is sovereign and He uses situations like this for His glory. I can certainly testify to that. I don't know what else may happen. It seems as if I've run the gamut on things that can go wrong with the eye. I may lose the central vision in my right eye. I may become legally blind. Whatever happens, I know that I will be raised up one day with a glorified body with new eyes. I look forward to that day.