Life Stories @ FCBCLA by Nelson Kuan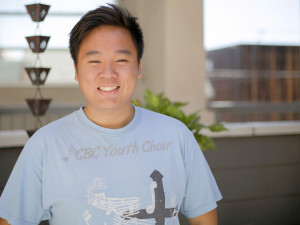 When I first joined, Youth Choir didn't seem like anything out of the ordinary. It seemed to be nothing more than a group of youth who sing. That's essentially what most choirs are. However, FCBC's Youth Choir is a family that isn't just about the songs, but also a family that sets its sights first and foremost on bringing praise to God through one of the gifts that He's blessed us with – our voice.
I first attended FCBCLA when I was in second grade. Everything at this church was intimidating from its people, to its size, and all of its different services. Moving from a small church to a much bigger church made it difficult for me to open up easily due to my shy and reserved personality. Years passed before I would truly get my first chance to open up. One day, my close friend, Robert Chow, encouraged me to join Youth Choir. Naturally, my instincts told me to decline because I was afraid of performing in front of crowds. However, Robert told me that I had a gift in music, so I hesitatingly tried it out. Just like any newcomer, I had a timid voice and was too afraid to speak up and sing out. Yet as time progressed, I became more comfortable with the people around me and my own voice. The little fears that used to grip me disappeared as my identity in Jesus Christ and my purpose in His plan began to grow clearer and clearer.
During my time in Youth Choir, we've sung in many places including convalescent homes, hospitals, and of course, Disneyland. However, we didn't go to these places just to sing and show off our abilities. Our main goal for each event was to share the Gospel to the people in the crowds whether they may be retired folks who may be lonely in their convalescent homes or Disneyland fans who have never heard of the Gospel, or even sick children in a hospital. We wanted to sing to these people to bring them hope and the good news. As disciples, we're called to go out and preach the Gospel and to be salt and light in this world. The songs that we sang (mostly nonsecular) all had a central theme: the Gospel. Since we didn't preach the Gospel, we sang it to the people. I found our rehearsals and performances to be a constant reminder of my dedication to bring glory to God. No matter what I do or how I sound, I know that I am following God's bidding and that's all that matters. In the end, God only cares about where my heart is and that's where I put my emphasis.
Nelson Kuan