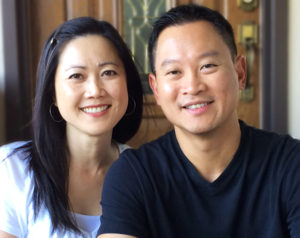 As I reflect on the spiritual journey God has led me through these past five years, I am in awe of His goodness and faithfulness. I distinctly remember sitting in worship one Sunday morning when I felt God placing a burden in my heart for individuals in our church with special needs. I didn't have any particular person in mind at the time which made this thought all the more intriguing to me. In the days that followed, I recall experiencing mixed emotions as I pondered over this thought. I went from feelings of excitement that God might be calling me to something extraordinary to feelings of uncertainty as I evaluated my spiritual readiness for this level of commitment. I had endless questions about what it would mean to be involved in starting a special needs ministry at FCBCLA.
During one of Pastor Chris' encouraging messages, I was given peace and confidence to take that step of obedience and leave the results to God. Sure enough, I learned what it meant to be still and know that He is God. I realized that I did not need to have all the answers or be able to see the whole picture. I could trust that God would take the lead and I only had to follow. "For we are God's handiwork, created in Christ Jesus to do good works, which God prepared in advance for us to do." (Ephesians 2:10)
Weeks later, God confirmed His calling as I was introduced to a few sisters in our church who also shared the same burden. I was informed that there were three middle school students who attended FCBCLA regularly for years and would benefit from having a special Sunday School class just for them. Beginning January 2011, a small group of us met regularly to pray for the leading of the Holy Spirit. During this period, we experienced God's hand at work. He opened up opportunities for us to connect with people from other local churches that had already established a special needs ministry. We had the privilege of attending conferences offered at that time by Joni and Friends Organization which broadened our knowledge and deepened our passion for this ministry. What amazed me the most was seeing God also work in the heart of my husband, Vincent, who had been right by my side from the start of this journey! I speak for the both of us in saying that the privilege of serving together has not only strengthened our spiritual walk, but also our marriage. What wonderful grace!
On October 2, 2011, God led us to begin our first Sunday class with 3 students. The class has grown to 10-13 students over the years. Some are relatives of FCBCLA attendees while others are from the community. We currently have 6-9 teachers in the first session and 8-10 teachers in the second session. I personally had not met most of the teachers before this ministry began but God, in His perfect timing and plan, brought us together in an amazing way for this very purpose. As teachers, we continually pray for wisdom to help the students grow in their spiritual understanding of scripture, worship, prayer, and service. However, we place our confidence in the fact that only God can transform hearts and minds. There is no one that God can't reach. We trust that He will be faithful to bring forth spiritual fruits from the seeds that we plant through our teaching and love.
I am humbled to find that as I teach the students about God's love that they, in return, teach me about God's goodness and grace. I am filled with joy on Sunday mornings when I see their smiles and faces light up as they arrive at church. I am moved when I see individual students muster up more courage than I realize is needed to walk into a large room filled with people, tolerate the change in lighting and music volume, stand up to worship when their muscles are weak, remain seated when their bodies can't stay still, sing praises out loud when they can't utter the words, volunteer to pray when they don't know what to say, and serve with all their heart because they take their job seriously. I am encouraged to see these students engage in God's Word by reciting or reading a Bible verse, typing it on the iPad, or tracing words on paper. I have also been blessed to develop relationships with the families, all of whom have encouraged me with their strength and perseverance.
It has been awesome to personally experience God's provision and faithfulness as He orchestrated every detail of the growth of this ministry. The support from our church leaders and staff has been an answer to our prayers! I encourage anyone who feels called to join us in this faith journey to take that step and embrace this experience with us. God has revealed that this ministry will not be something that exists in isolation at FCBCLA. Sooner or later, it will touch every part and member of our church body in one way or another. While ongoing questions remain about the future direction of this ministry, I hope that our church as a whole will commit to welcoming and caring for all individuals and families that God brings into our midst. As I say this, I have in mind several wonderful, godly church members who have united in their efforts over many years to model the love of Christ to a young adult sister who has special needs and been a part of our church since childhood.
Everyone can have a part to play in the way we include people with disabilities into the body of Christ. "From Him the whole body, joined and held together by every supporting ligament, grows and builds itself up in love, as each part does its work." (Ephesians 4:16) Our individual differences actually unite us as a church because of who we are in Christ! This ministry was God's idea and is a gift to make our church body whole. As we continue to seek God's guidance in the way we minister to those with special needs, I believe we can be excited to see what God does to enrich and bless FCBCLA through this ministry!