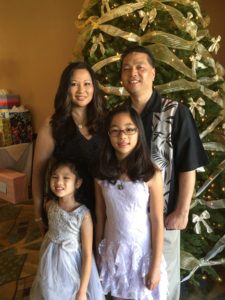 Life Stories @ FCBCLA by Jeff Quan
Like many people, I didn't grow up in a Christian home.  I did, however, have an opportunity to accept Jesus at a young age.  My journey with Christ began when my family went to my sister's junior high school open house in 1976.  We ended up in her math class and met her teacher, Wes Ong.  Wes started talking about the typical academic stuff with my parents but then he invited me and my siblings to VBS at FCBCLA where he attended church. My parents weren't opposed, and Wes offered to drive us, so off we went.  I can't say I remember much about VBS except that I listened to Bible stories, ate snacks, and interacted with the other kids. Toward the end of the week, I do remember that my VBS teacher took me aside to ask if I wanted to accept Jesus into my heart.  I said, "Yes" and my teacher led me to pray and ask Jesus to forgive me for my sins and invite Him into my heart.  I don't think I really understood the magnitude of what I had done but I did believe I was saved and was now a Christian.
Through my elementary and junior high years, I started going to RA's, Sunday School, and worship regularly.  During that time, I was soaking in Christianity and enjoying the social aspects of being at church.  In high school and college, I participated and served in various church activities such as Bible drill, Hi Koi, HSMT and CCF.  I also played in church softball and basketball leagues.  Everything seemed fine, but there was something wrong with my thinking … I believed that as long as I was serving and trying to "live a good life" I was a good Christian.  I now know that I was an immature Christian who was living a pretty empty spiritual life and serving God with an empty heart. I was serving for personal gain, for popularity and recognition, rather than for God.  It's also clear to me that my Christian life consisted of Fridays and Sundays only – the days I was around church and church people.  I was living two lives.  It says in 2 Corinthians 5:17, "Therefore if anyone is in Christ, he is a new creature; the old things passed away; behold, new things have come."  I had never let go of my old self.  One blessing, however, that did come out of my years at FCBCLA was the friendship I developed with Ted Dong, Dalton Cheng and Roger Yee – more to come about them later.
After I graduated college in 1991, I stopped going to church altogether.  I met my wife, Cindy, at college and married her in 1994.  I had my daughters, McKenna and Jordan, in 2005 and 2007. To be honest, during those early years of marriage and into early parenthood, I could accurately be described as a terrible husband and father.  I was selfish – living life only for myself even though I had responsibilities.  I was pretty oblivious to the damage I was inflicting on my family due to my behavior and actions. Whenever I would try to change, I would turn to worldly methods to "get my life straight" such as going to counseling, but they didn't really change anything.  As I look back now, I can see how God still faithfully extended love and grace to me, and especially to my family during those terrible years.  Even though I didn't deserve a 2nd, 3rd, 4th, 5th, etc. chance with them, God continued to be faithful.
Coming up to April 2016, I felt my life had hit rock bottom.
Then, 25 years after I had stopped going to church and essentially stopped acknowledging God altogether, He opened my eyes and heart by giving me a root canal.  Let me explain…the root canal required me to have multiple procedures to relieve the pain and remove the tooth.  This meant I had to see my dentist, Dr. Erwin Lee, 3 times to complete the procedure.  Erwin has been my dentist for many years and he has never been shy about sharing his spiritual experiences with me.  His experiences and stories always seemed nothing short of miraculous.  Over the years, I was always polite and listened without responding too much.  This time however, during one of the root canal procedures, Erwin shared about the time he had re-dedicated his life to Christ.  He shared how that had changed his life and that now, everything he does, he does to glorify God.  Then, at the very same moment Erwin asked me how I felt about re-dedicating my life to God, the Holy Spirit filled me with the desire to do just that. We prayed together right there.  Then, and I know it sounds cliché, I really did feel as if a heavy burden was lifted from me!
Soon after in May, and I know it was no coincidence, God brought me and my old friends, Ted, Dalton and Roger together again.  God gave us an opportunity to re-connect and I shared with them about my decision to re-dedicate my life to Christ. We started keeping in touch more and, a couple of months later, all of us made a pact to attend the FCBCLA Men's Ministry retreat in September.  We ended up carpooling to the retreat together.  This again was part of God's plan as you will hear later.  The theme of the retreat was "Men Under Construction" and Pastor Montia Setzler was the speaker.  The first night, Pastor "Monty" gave a message and made many good points, but the ones that stood out for me dealt with the lack of transparency and the need for accountability among men.
After his talk, we were asked to split up into smaller groups to discuss what we had heard.  I prayed that if God really wanted me to be accountable and transparent about my struggles, God would pair me with Ted, Dalton or Roger because I would be hesitant to share this with the other men.  No offense to the other men there, but I just did not know them well enough to feel comfortable sharing that deeply with them.   Sure enough, we were asked to split up into groups based on who we rode up to the retreat with (remember that we had decided to carpool up to the retreat together)!  There was no turning back now, so I shared honestly with them about my struggles.  I can say that our time of sharing at the retreat continues to bear fruit today.  Since that time, we've continued to maintain our accountability with each other using "Google hangout", getting together on a monthly basis, and texting/ emailing each other.
After the retreat, and following God's leading, I asked my family to start going to church.  Previously, Cindy had been open to going, but I never took the initiative.  We are now blessed to call FCBC Walnut our "home" church.  God led me to take another step of faith which was to tell my wife and children that I now have a life filled with Christ.  Cindy had known about my re-dedication to Christ in April, but God used the Men's Ministry Retreat to give me the strength to now back up my talk with my walk and to lead by example as Jesus did.
I feel that God has given me a 2nd chance – both with Him and with my family.   McKenna and Jordan are now new believers and I will soon be getting baptized.  I now pray that McKenna and Jordan will grow in their faith.  I pray for Cindy and myself that I can be a leader in my home and be a Christ-like example for my family.
Do I still have bad days and struggles?  Most definitely!  But I know that Christ is with me and I can count on Him for comfort and peace.  Do I believe that God chose this path for me?  I do now.  I can now see that nothing in my past was an accident or a chance coincidence.  I believe God has waited for me all this time so that He could use me at this particular season of my life.  I firmly believe my mission now is to guide my family to grow in Christ.  One thing is for certain; my journey with Christ is far from done. I feel it's a new beginning.  As Galatians 2:20 says, "I have been crucified with Christ. It is no longer I who live, but Christ who lives in me. And the life I now live in the flesh I live by faith in the Son of God, who loved me and gave himself for me."
My encouragement for those of you who are going through something similar in your own life or have "challenges" with your spouse, children or family, is to have confidence that God is with you.  Sometimes, His answer is "wait".  Then at the proper time, when all is finally revealed, you will experience abundant joy and happiness!  To God be all the glory!   Jeff Quan