Something I Would Not "Trade"
Susie W. Chan

In December 1995, God blessed Susie with the miraculous gift of a kidney transplant from her older brother Joe. Soon afterward Susie wrote down her thoughts and experiences to possibly share with others. By sharing her words with you now upon the 3rd anniversary of her home going, I hope that you will be encouraged in the Lord for answered prayers and to live a life for Him as Susie had so faithfully lived.
– Kevin
PART 1 of 2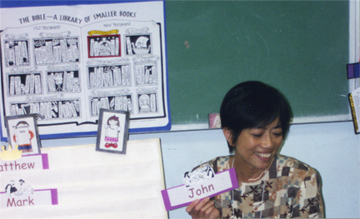 When Kevin mentioned to me the idea of God answering prayer with "yes, no and wait" I couldn't help but remember that this was something I taught in GA's when I served as a GA counselor. That was actually the first time I remembered this concept. I said to Kevin that God answered all three ways in my experience with lupus – specifically – dealing with my kidneys failing.
Lupus – autoimmune disorder. My body's immune system, which is supposed to protect against infections instead turns on itself and attacks/destroys own healthy tissues. Two forms. I was diagnosis with systemic form of lupus. Lupus can involve the joints, kidneys, hearts, lungs, central nervous system, liver or other organs.
I was diagnosed with lupus in my freshman year of college. My doctor prescribes a number of medications to try to bring my lupus in remission. In 1988 – I was working by then – first time came up that lupus was attacking my kidneys. Underwent kidney biopsy. Treated with a chemotherapy drug. Seem to do the trick. Between 1988 and 1994, every blue moon lupus would attack my kidneys but it would always go back into remission with the chemotherapy drug. In 1994 I was feeling well and was expecting my doctor to lower medication for my lupus. What devastated me was that he said this time medication would not help – my kidneys would eventually fail and nothing can do to prevent it (only possible to maybe slow it down with diet). As I mentioned, I was feeling well – no symptoms. I started praying fervently that my kidneys will be healed. By this time, I was married to Kevin. We along with other people within the church were both praying for healing of my kidneys. As you know, God said "NO" to our prayers.
As my test results of my kidney functions reviewed that they were failing, I started losing energy – starting having the physical symptoms … I cried and prayed to God. I asked God to help me deal with my health. He answered, "YES". He reminded me of His answer to Paul when Paul asked that a thorn in his flesh be removed, the verse, 2 Cor. 12:9 "And He said to me, My grace is sufficient for you, for [My] power is perfected in weakness. Most gladly therefore, I will rather boast about my weakness, that the power of Christ may dwell in me." I cannot forget the grace that I experienced and how it helped me during this time. I know there were many, many people praying for me. A part of me didn't want to admit that my kidneys were failing – when I faced the fact, I was in one of my deepest valley and I was praying that God would help me deal with this situation that I am facing. For those of you who are song leaders or serve in the music ministry, never underestimate how God can use you through your music. During first worship when the choir sang a song during offering time. I felt God was speaking to me with the words of the song, – reassuring me – "Unbounded Grace". I cannot tell you what an encouragement it was to me. His answer to me with this song was so overwhelming – it was as if He was speaking directly to me!
My kidneys failed very suddenly. I had a doctor's appt. on Monday, July 31. That same afternoon my doctor called me and asked me if I wanted to enter the hospital that evening or the following morning – I had to start dialysis right away. I chose to go in the next morning, Aug 1. I had a tube placed near my shoulder so easy access to a vein. Three hours a day – three days a week. Had to be on a special diet. Weigh my protein (chicken, turkey, …) and could not eat more than a pound. I also had to measure how much fluid I could take in. Because of my size, I could not drink more than 4 cups a day (fluid from fruit like watermelon also was included). When I had too much fluid, I end up in the hospital – happened twice. There were a lot of things I could not eat or drink like chocolate or milk. I don't know how people can be on dialysis year after year. I was physically drained and could not work.