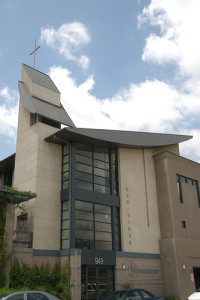 Welcome to First Chinese Baptist Church, Los Angeles (FCBCLA)! We are a multi-generational, multi-lingual church in the heart of Chinatown. We are passionate about teaching the Bible, growing authentic disciples, and sharing the good news of Jesus Christ.
This is a place where your entire family can come to worship, fellowship, and serve together whether you're nine or ninety years old, speak Cantonese, Mandarin or English. We have a large variety of age and language ministries designed to meet the needs of a particular group with the common goal of helping all to grow in their walk with God.
We seek to:
Experience Jesus: We have worship and prayer services every week where you can experience intimacy with Christ as you sing praises to Him, communicate with Him by prayer, and hear the proclamation of His living Word.
Engage with One Another: We learn to love, support, serve, and hold one another accountable in fellowship groups. We study God's Word together in Sunday School and Bible Study groups. Most importantly, we want to actively live out the Great Commandment to love God and one another.
Evangelize: We share the gospel through community outreach, church planting and global missions. We believe in the Great Commission and want to share God's love with our neighbors, communities, and the world.
We hope you will come and feel at home no matter where you are in your spiritual journey! If you are new to our church, we invite you to learn more about our beliefs. We look forward to meeting you, and are excited to share the love of Jesus Christ with you!