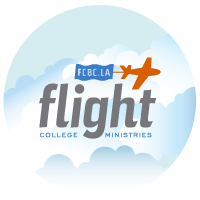 Thanks for coming on board. You'll find here a description of the places collegians can be involved in or attend. Some occur on-site at FCBC, others occur elsewhere. Each area exists to help collegians in their spiritual journey in Jesus Christ.
PASSAGE

[Life Center 302-303, 9:00-10:15am]
Traditionally known as Sunday School, Passage is the weekly gathering on Sunday mornings to examine and discover truths and application from the Bible.
HUB
[Various Times & Locations]
HUB is where collegians gather to check-in and catch-up. Since many collegians are dispersed to various schools, HUB gathers students together to reconnect through outings and events. It's a large group time that meets at various times throughout the year on significant days (such as holiday weekends). HUB captures the annual Winter Retreat held between Christmas and New Year's.
ANNEX
[Mondays unless specified. Various Campuses]
"We come to you." Annex brings the church to university campuses. A small group of individuals visits universities and brings concern, encouragement and prayer. The small group meets 1-on-1 with students then gathers everyone together for a meal and fun. For those who don't visit home often, the visits keep the students connected with the church.
Annex:COMMUTERS
[7:30pm, 1st and 3rd Fridays in the San Gabriel Valley]
Similar to the evening gathering of Annex, Commuters gathers the students at local colleges for dinner and fun.
COACH
[Settings are determined by participants]
Coach pairs mentors with students to advance spiritual growth, study the basic tenets of the Christian faith and supply prayer. For students wanting, or needing, a discipler, Coach assists in making the right match. Gals are paired with gals, guys with guys.
CONNECTIONS
[Settings are determined by participants]
Life can't be lived alone. School can overwhelm a student. Work can be a drag. The solution: be connected to a small group community where others provide support, encouragement and prayer. As students live shared experiences, the study and dialogue of scripture can help the student overcome life's challenges. Connection groups use scripture or books to understand and explore faith.
CUSTOMS
[Mexico: during UC Spring break. Abroad: 2-wks in the summer]
We are directed by Jesus to bring Truth, healing and help to our world. Customs covers the missional aspect of Flight. Customs currently organizes annual projects in the spring and summer and supports collegians partnered with other organizations.
LIFT OFF!
[10 days, 10 minutes, 10 topics for prayer]
Lift Off! simply encourages participants to pray. Over 10 days, we will be presenting 10 prayer requests that we ask you to pray over for 10 (solid) minutes. Lift Off! presents 10 areas of prayer that may include specific people, ministries, or aspects of growth. It is meant to be a blast of encouragement and intercession by a committed group of people over the course of 10 days. Keep an eye out, the countdown begins soon…
AIRMAIL
[A simple, creative way to communicate!]
Through simple, postal materials, Airmail connects distant (especially out-of-state) students by providing printed materials and packages. Available throughout the year, the pre-paid postage paraphernalia can be used to easily write a personal message to another student no matter the distance. Look for different materials throughout the year designed by our very own students!
(If you are interested in designing such materials, notify Flight ministry!)