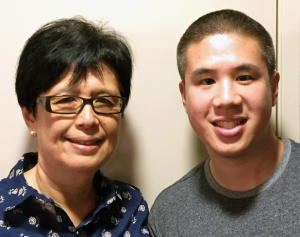 A MOTHER'S STORY
"Why God, why is this happening??" This was my first thought when my husband Randy and I discovered that our son Keenan was on drugs in the fall of 2012. Disappointed, upset and worried, I needed to understand what would drive our son to want to harm his body in this way.
Although Keenan accepted Jesus into his heart at a young age, I knew he needed an encounter with God that would transform him. Once Keenan experienced God for himself, he would realize that drugs would not satisfy him. Only God could bring total satisfaction in his life. Driven by this desire for our son, I prayed fervently for God to work in his heart.
Keenan and I had many conversations. I wanted to know about the drugs he was taking and why they appealed to him. Keenan admitted that he started experimenting with drugs two years earlier in his senior year of college. He felt lost after graduation, unmotivated to look for work or do anything productive. Life was a lot more fun and enjoyable when he was "high." The euphoria was freeing. It made him feel uninhibited. I told my son that God really loved and valued him. Moreover, the living God could give him the greatest "high" of all. No drug could ever give the freedom that God could give him. Keenan acknowledged that God might be real to others, but God wasn't real to him. I challenged my son to ask God to make Himself known to him.
In February of 2013, Keenan became ill with flu-like symptoms. His face was jaundiced and his urine turned a dark color. I took him to see our family doctor. A blood test indicated Keenan's liver enzymes were dangerously elevated. The doctor urged us to take him to the emergency room. The problem was that Keenan didn't have health insurance. I asked Randy, "Should Keenan go to the county hospital or should he be taken to the hospital in our area?" We both decided that we wanted the best care for our son, so we took him to the local hospital. After a preliminary assessment, the ER doctor said Keenan needed to stay ovenight. Since Keenan didn't have health insurance, we had to pay $1,500 as a prerequisite for his admission.
After a series of tests, the results confirmed that the elevated liver enzymes were due to Keenan's substance abuse. But the doctors were puzzled… how could someone who had been on drugs for only two years have such extensive damage in his liver?
…stayed tuned for the conclusion on Mother's Day, May 10th