A JOURNEY WITH JESUS THROUGH PASSION WEEK
 (Mark 15:1-47; 1 Peter 2:13-25)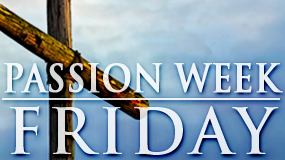 On this day, Jesus was publicly humiliated as He stood trial for crimes He never committed. He endured accusations, ridicule, insults and torture. Jesus, being innocent of all charges against Him, was condemned to a horrific death on this dark day. But Jesus was no ordinary man. He was the Son of God, who took our place on the cross, so that our fellowship with God would be restored. The blood that Jesus shed cleansed us and set us free from all our sins… past, present and future. The sacrifice He made gave us freedom from eternal damnation. He died for our good. As a result, we can live in righteousness, healed by the wounds He bore for us.
All of us deserve the penalty of death "for all have sinned and fall short of the glory of God." (Rom. 3:23) But we were spared from this penalty because Jesus took our place on the cross. Reflect on what He has done for you. Give thanks for His unconditional and sacrificial love.
The passage in 1 Peter reminds us that what Christ suffered for us was to be our example, so that we might die to sin and follow in His footsteps. He submitted to the will of the Father. Are you submissive, even when you are treated unfairly? Are you willing to sacrifice, even if it means you need to deny yourself so that others might benefit?