R

espond to

the

critical needs after the magnitude 7.8 earthquake.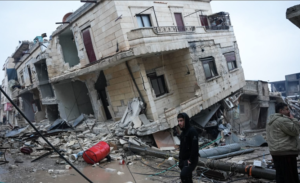 ● More than 45,000 people have been killed and tens of thousands injured in a devastating earthquake that struck southern Turkey and northern Syria on Monday, February 6. 
● Send Relief is the relief agency of the Southern Baptist Convention and is working with local partners and churches to respond to critical needs. Within hours of the disaster, local partners began providing blankets, water bottles, food, and other emergency supplies in impacted neighborhoods. 
● 2 月 6 日星期一,土耳其南部和敘利亞北部發生毀滅性地震,造成死亡人數超過45,000 人,數萬人受傷。 
● Send Relief 是美南浸信會的救援機構,與當地教會合作,響應緊急援助。 地震發生後數小時內,當地合作夥伴就開始在災區提供毯子、瓶裝水、食物和其他應急物資。 
FCBCLA will make a donation of $25,000 and match donations up to $25,000. 
羅省第一華人浸信會捐款 25,000 美元,並對配捐款至 25,000 美元。